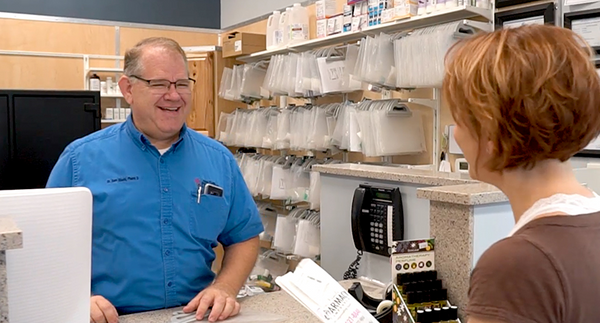 Pharmacists are the most accessible and frequently visited healthcare professionals. We are on the front lines of this pandemic. We all know that we will be exposed to the coronavirus, if we haven't already. We are caregivers to our children or other family members, so we are committed to protecting ourselves and our patients to minimize the spread of this virus.
We need your help.
❖ Please be patient with our caring staff. We are trying our best to take care of every patient as efficiently as possible. Your health and safety are our first priority. We have initiated cleaning and disinfecting protocols that will take our staff's time to perform. This, in addition to increased prescription volume, may increase waiting times for prescriptions.
❖ Do not come into the pharmacy if you are sick. Send a family member or friend inside, or we can come out to your car.
❖ Deliveries are currently available, however we want to prioritize those with the greatest medical needs. If you are sick, please notify the staff prior to delivery so we can prepare. We will be practicing social distancing during our deliveries.
❖ When waiting for prescriptions, try not to linger in crowded waiting areas. We have text message alerts so that you know when your prescription is ready. While waiting in line to pick up your prescriptions, please practice social distancing. Try to leave space between you and the person in front of you.
❖ Virtual refills are virus free. You can order refills by downloading our app and get up to date information on our website, Stuckifamilypharmacy.com. Try to order refills a few days early to give us sufficient time to fill them.
❖ Call wait times may be longer. Please limit your calls to only essential matters and questions. Please be patient as we get to your call.
❖ Please pay with credit cards if possible, to decrease the amount of cash handled by yourself and the pharmacy personnel.
❖ Going stir crazy? Had enough pandemic media? We have screenless ways to help pass the time with puzzles, journals, homemade candies and fun toys!
❖ Wash your hands! Take good care of your health. We love our patients and are dedicated to serving you during this pandemic.
Sincerely,
Sam Stucki, Pharm D.